New Trumpet Level 2 grade books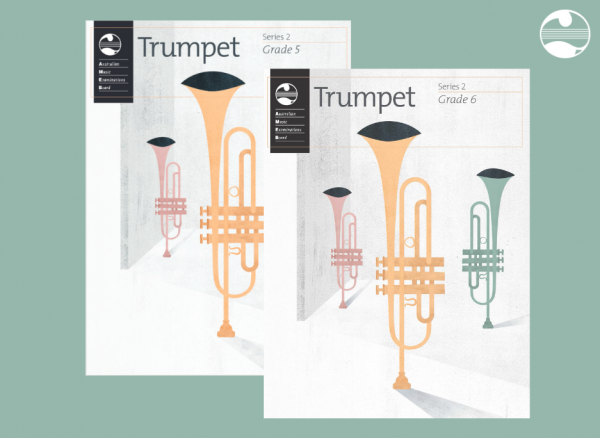 The AMEB Trumpet Series 2 grade books have been expanded to include Grades 5 and 6. The works featured in Trumpet Series 2 Grade 5 and Trumpet Series 2 Grade 6 will be added to the repertoire section of the current Trumpet syllabus. (No works have been removed). Exciting new pieces provide ample technical and skill-building opportunities for developing trumpeters. Ensemble playing and practice opportunities are encouraged through the inclusion of duets.
Additional orchestral excerpts for Grades 5 and 6 are included in the new publications.
AMEB Trumpet Teachers' Workshop
Teachers are invited to an online workshop to be presented by the Series 2 grade book consultant, Suzanne Wedding. In the workshop, Suzanne will discuss the repertoire contained in the books, with a focus on the techniques required by each piece.

AMEB Trumpet Teachers' Workshop 
When: Sunday 12 February 2023, 2pm AEDT
Where: Online via Zoom
Regsitration:  https://zoom.us/webinar/register/WN_nwCeeBE9RTaDXV9fMAyuZA
Trumpet Series 2 Publications
Trumpet Series 2 grade books (Preliminary to Grade 6)
Specially selected repertoire with a focus on works written for Trumpet.
The first publication of AMEB Trumpet books at Level 2.
New orchestral excerpts to expand the current lists.
New and stylistically diverse pieces with grade-appropriate ranges.
Contents Trumpet Series 2 grade books
Grade 5
List A
ARBAN, J.-B. Study No 26 from Grande méthode complète de cornet à piston et de saxhorn
CAENS, T. Pavane rôtie from Petites études sur les tonalités
CONCONE, G.arr. WEDDING. Leçon No 44 from 50 leçons de chant Op. 9
DAVIS, L. Pegasus in pinstripes
List B
CORELLI, A. arr. ROSS. Sarabanda and Gavotta 4th movement from Sonata No 7 and 4th movement from Sonata No 10 from 12 violin sonatas
HUMMEL, J. arr. HODGSON. Romanze No 4 from Six pièces très faciles Op. 52
PURCELL, H. arr. NICOLSON. I'll sail upon the dog star from Z. 571
TRADITIONAL arr. HUNSBERGER. 'Tis the last rose of summer
List C
GETCHELL, R. Proclamation, Serenade and Frolic
KELLY, P. Ezekiel's rag
STREET, A. Rondino
TORNYOS, G. Sonatine
List D – Orchestral excerpts
Grade 6
List A
CONCONE, G. Leçon No 8 from 25 leçons de chant Op. 10
HERING, S. Study I
MONZA, C. attrib. PERGOLESI, G. arr. WEDDING. Air No 4 from Suite in E major from Pièces modernes pour le clavecin
SNEDECOR, P. Etude I
List B
BÖHME, O. arr. LAUBE. Liebeslied Op. 22 No 2
LORTZING, A. arr. MÖLICH. Thema und Variationen für Trompete und Orchester
PURCELL, H. arr. ROSS. Rondeau from Abdelazer Z. 570
TRADITIONAL arr. HUNSBERGER. Believe me if all those endearing young charms
List C
BULLA, S. Declaration for trumpet
JOHNSTON, H. Leonie
KATS-CHERNIN, E. Slicked back tango
MCDOWALL, C. Ball at the Moulin de la Galette, Nocturne in blue and gold and Walking man from Framed
List D – Orchestral excerpts
AMEB Victoria clients can purchase syllabuses and publications at discounted prices and receive free postage on syllabus and publication orders over $100. Any profit from sales through AMEB Connect will be used to assist Victorian candidates and teachers, through lower exam prices and student/teacher support programs.