Regional piano teachers' workshop
Presented by Caroline Almonte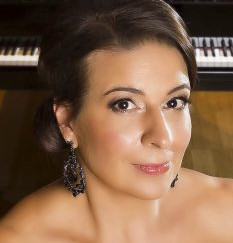 Sunday 11 August, Ballarat Grammar School, Wendouree
10:30am – 4:30pm (including a lunch break at 1:00pm)
Teachers who attended the workshop in Bendigo and Geelong gave very positive feedback: "Very personal, tailored to the needs of attendees"; "Caroline was brilliant! Great tips"; "Beautiful to hear pieces played well"; "An excellent presentation with some useful suggestions".
This is the final Piano Syllabus workshop for 2019
> Click here to register
The new 2019 AMEB Piano syllabus features a comprehensive review of the Manual Lists and a new range of Series 18 grade books, handbooks and recordings.
Technical Work includes new scale and arpeggio sequencing across all grades and specially-composed exercises to support and complement the traditional technical content, as published in Piano Technical work Level 1(2018) and Piano Technical work Level 2 (2018).
The workshop will assist teachers to become familiar with the new Technical Work requirements and will introduce some of the less-familiar repertoire published in Series 18.
Additionally, teachers will have an opportunity to tailor the workshop content to their specific needs, and may submit requests for support on pedagogical, technical or stylistic issues relating to works published in Series 18 or Series 17.
About the presenter
Australian Pianist, Caroline Almonte, gives regular solo and chamber music recitals, masterclasses and lectures around Australia and overseas. Caroline teaches piano and chamber music at the University of Melbourne and the Victorian College of the Arts Secondary School. She is an AMEB Piano Examiner and was Producer for the AMEB Piano Series 18 recordings.
Registration
As this is a professional development opportunity, Statements of Attendance will be provided.
Workshop fee: $110 (including GST)
Registration for an individual teacher (paying by credit/debit card) is via the Trybooking website.

Teachers whose attendance will be sponsored by a school should register by emailing ameb-vic@unimelb.edu.au (AMEB Victoria will contact the school to arrange a Purchase Order and payment).
Venue details will be confirmed by email one week prior to the workshop.
Publications
The new Piano Series 18 publications, Technical Work books and handbooks may be purchased on AMEB Connect (Victoria). AMEB Victoria clients receive a discount of 10% off the recommended retail price and free postage on orders of $100 or more.