New Rockschool video exams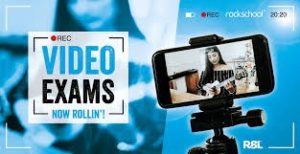 In response to the COVID-19 pandemic Rockschool has introduced two graded exam formats via video submission, Rockschool Performance Certificates (Premiere to Grade 8) and Rockschool Graded Certificates (Debut to Grade 5).
Video exam submissions must be uploaded within one month after the date of enrolment (video submission procedures will be provided.)
Click here to learn more about 2020 Rockschool video exams. Enrolments on AMEB Connect now open.